Cultivating a Flourishing Future: Indian Government's Mighty INR 25606 Cr. Expenditure on Fertiliser Subsidies till May 2023 Sparks India's Agricultural Progress, Empowers Rural Development, and Safeguards Food Security. This expenditure is out of the total available budget of INR 175100 Cr. excludes Establishment expenditure of Secretariat and other subsidies INR 48.26 Cr. And recoveries of INR 3980 Cr.
Fostering Farmer Support: INR 25606 Cr. Expenditure in Apr to May 2023 Highlights Government's Emphasis on Urea and P & K Subsidies, Ensuring Accessible and Affordable Fertilizers for Farmers Nationwide. Urea Subsidies Account for Noteworthy INR 16133 Cr., while P & K Subsidies Garner a Substantial Allocation of INR 9473 Cr., Bolstering India's Agricultural Growth.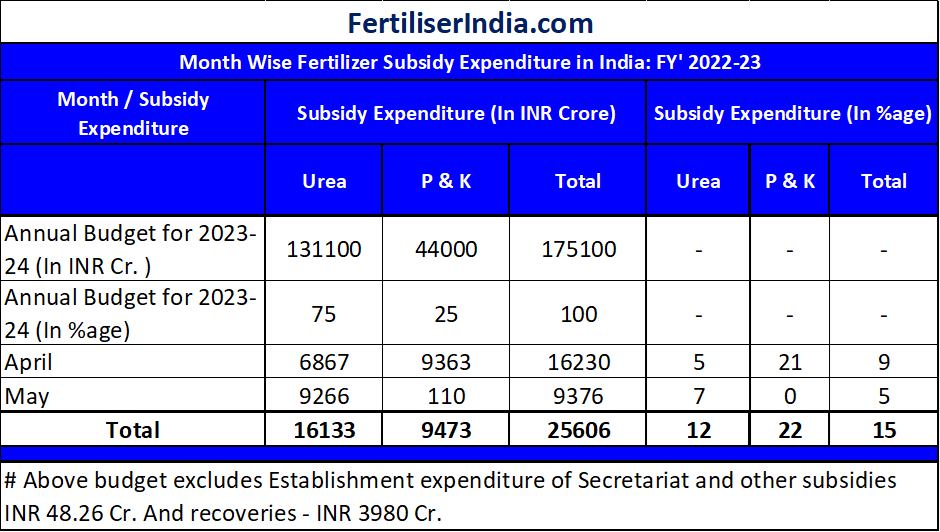 Fertilizer Subsidies to the fertiliser companies, empowering Farmers and Cultivating Agricultural Triumph through a Seamless Supply Chain and Financial Support. Government's Unyielding Dedication Ensures Timely Subsidies and Affordable Fertilizers, Empowering Farmers and Fueling Growth in India's Thriving Agriculture Industry. The robust expenditure on fertilizer subsidies in April & May 2023 underscores the government's proactive measures in fortifying India's agriculture sector, driving rural prosperity, and paving the way for sustainable and inclusive growth. By prioritizing the needs of farmers and ensuring a steady supply of fertilizers, the government remains committed to nurturing the backbone of the nation's economy and securing a prosperous future for Indian agriculture.
Sowing the Seeds of Success: India's Flourishing Fertilizer Industry Reaps the Rewards of Robust Production, Sales Growth, and Surging Imports, Signifying a Thriving Agricultural Landscape and the Fertilizer Ministry's Remarkable Stewardship.