CCEA under chairmanship of PM Modi has approved the Nutrient Based Subsidy ( NBS ) Rates for Phosphatic & Potassic (P&K) Fertilizers for the year 2021-22 from 1st October 21 to 31st March 22
Total Rollover amount will be Rs.28602 Crores along with one time special package for additional subsidy on DAP at tentative additional cost of Rs.5716 Crores and on three NPKs grades 10-26-26, 20-20-0-13 and 12-32-16 at the tentative cost of Rs.837 Crores. Total subsidy requirement will be Rs.35115 Crores.
Any subsidized P & K fertilizers are covered under NBS scheme and fortified / coated with Boron (B) or Zinc (Zn) as per FCO, are eligible for subsidy. CCEA has approved additional subsidy for fortified and coated fertilizers over and above the approved rates mentioned below in circular. For Boron(B) coated, it is Rs.300 per ton and for zinc (Zn) coated, it is Rs.500 per ton.
Special onetime package with additional subsidy is also approved for DAP @Rs.8769 per ton and Rs.2000 per ton for NPKS 20-20-013, NPK 10-26-26-0 and NPK 12-32-16.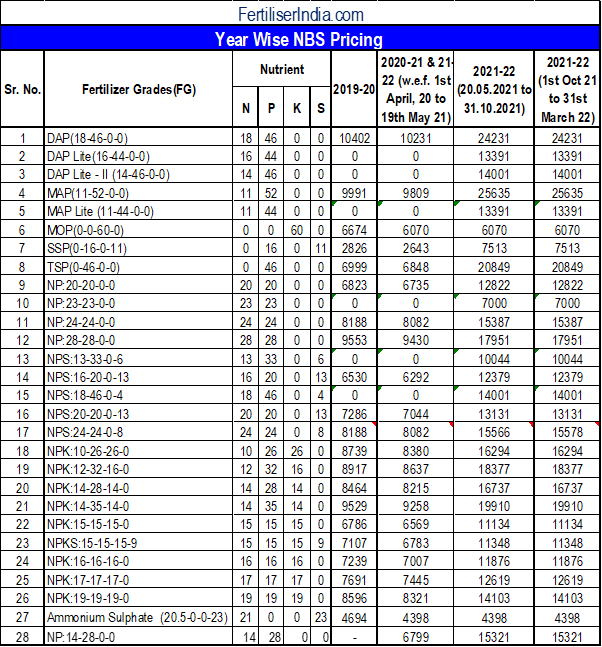 CCEA also approved inclusion of Potash derived from Molasses.