Urea consumption in India has traditionally been significant due to the country's large agricultural sector. It is used extensively as a nitrogenous fertilizer to enhance crop productivity. The demand for urea has been steadily increasing over the years, driven by factors such as population growth, the need for food security, and government initiatives to promote agricultural productivity.
The Indian government has been implementing various policies to support the agriculture sector and ensure the availability of fertilizers at affordable prices. Subsidies and price control mechanisms have played a significant role in stimulating urea consumption.
However, it's important to note that there have also been efforts to optimize urea use and reduce its wastage. Initiatives such as the promotion of Nano Urea, balanced nutrient management, neem-coating of urea, and the direct benefit transfer (DBT) system have aimed to improve the efficiency of urea use and prevent its misuse and wastage.
Despite all efforts, the purchase of urea by farmers in India on an all-India basis witnessed a 5% increase during the fiscal year 2022-23 compared to the previous year. The 5% increase in urea consumption in India, mentioned earlier, specifically pertains to prilled urea consumption and does not take into account the consumption of Nano urea. The Government of India has been actively promoting Nano urea due to its proven efficacy, zero wastage, and affordability. It is believed that the consumption of Nano urea has contributed to a restrained increase in prilled urea consumption on a pan India basis.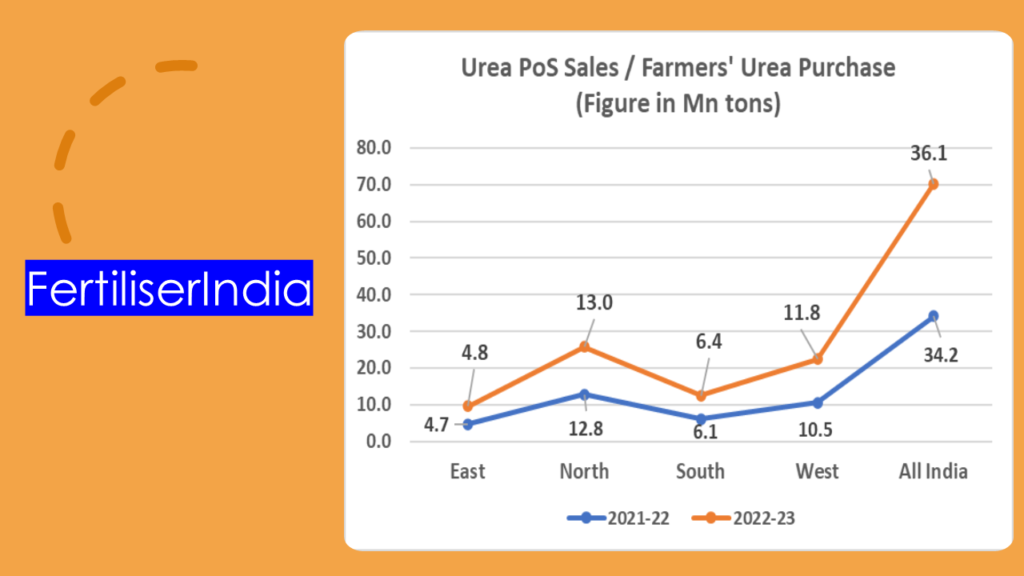 The overall urea consumption in India experienced an increase from 34.2 million tons to 36.1 million tons during the fiscal year 2022-23. Notably, the West zone demonstrated substantial growth in consumption, rising from 10.5 million tons to 11.8 million tons. In the South zone, urea consumption increased from 6.1 million tons to 6.4 million tons. However, the North zone's consumption exhibited a negligible growth, going from 12.8 million tons to 13 million tons, while the East zone experienced a slight increase in consumption from 4.7 million tons to 4.8 million tons.
Significant increases in urea purchase were observed in Western India, with a notable growth rate of 12.2%. Southern India also showed a considerable increase of 4.5%. However, the Northern zone exhibited a negligible growth rate of 1.4%, while the Eastern zone showed a relatively modest increase of 2.9% during the fiscal year 2022-23 compared to the previous year.