India's DAP consumption during Kharif 2021 is expected 6.51 million tons with 5 years CAGR of 1.46% and 4.14 during Rabi 2021-22. India's DAP production is hardly 3.8 million tons in FY 2020-21 and 4.5 million tons in FY'2019-20.
Di-Ammonium Phosphate (DAP) Prices have been significantly increased globally, due to various factors, which has increased to a level of US $ 543.40 in April, 2021 from US $ 357.10 in Oct., 2020 and there is a hike of 52.17% in past six months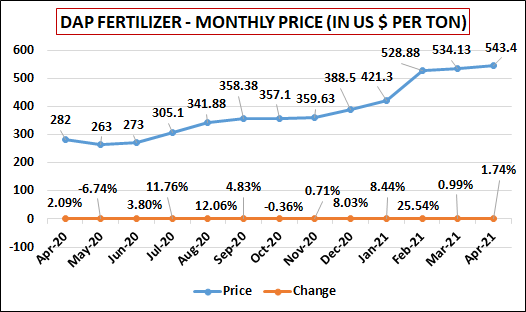 If we see the overall scenario of production, consumption, international prices, etc., many questions and issues will come into the light, and addressing these issues with the right solution at right time, will help Indian farmers and crop production. Lets' see the below questions!
How India will meet the requirement of DAP in FY' 2021-22 and at what cost?
Will India meet local demand on a timely basis at an affordable price?
What will be landed cost at destination for Indian farmers?
Fertilizer Imports take a minimum of 60-90 days to reach Indian port/destinations, after taking the decision of import by company/importer.
Considering the current DAP international prices at the US $ 543.30 and other costs/expenses like Insurance, landing charges, basic customs duty, CVD, LC Charges, Port Duty, Port Handling, Bagging, Rake Handling & Freight, etc., whether import at this stage is viable for companies and can Indian farmers afford that price.
If we see the below table, the company may expect to get a margin of either zero or negligible or loss if MRP will be around Rs.2026/- per 50 Kg bag plus applicable taxes, as per the below calculation. If the company takes just a margin of 3.9% including finance charges & operating overheads, the MRP of imported DAP will be around Rs.2126/- per 50 Kg bag plus applicable taxes at current international DAP prices and at the current subsidy rate.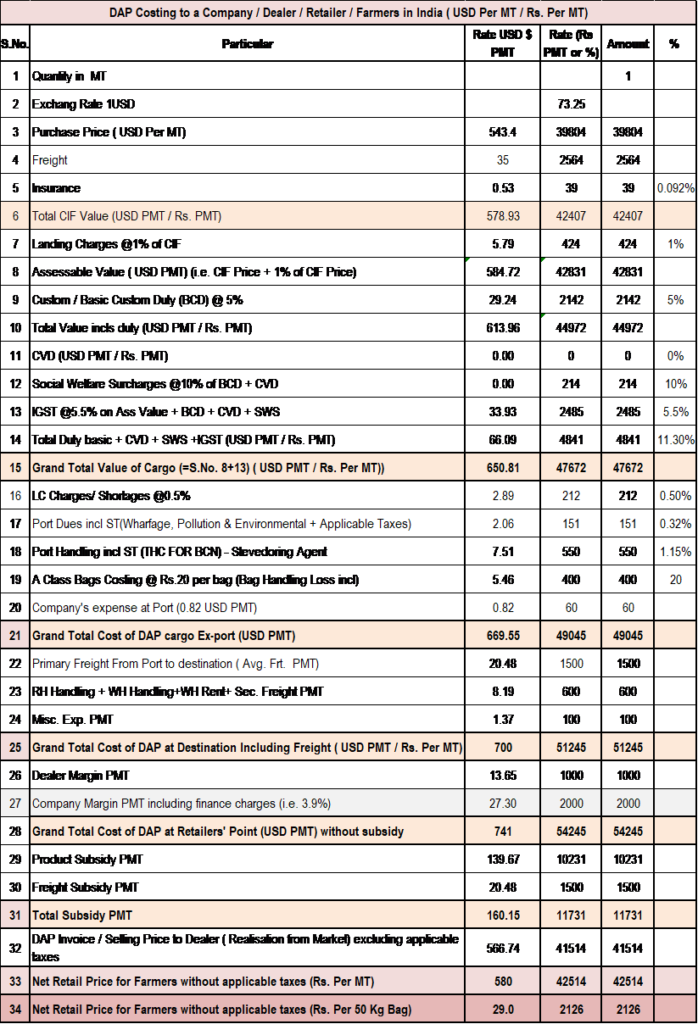 Department of Fertilizers, Ministry of Chemicals and Fertilizers is already working seriously on it. Fertilizer Minister himself has taken a serious note on it and had several meetings with the concerned / Industry people and has assured to ensure availability of DAP phosphatic fertilizers at an affordable price to the farmers in the ongoing Kharif season. It is time to take immediate action not only for ongoing Kharif but also for the coming Rabi season also.
If analyzing the data and past record/history, it is found that whenever DAP prices have gone beyond the affordable limit of farmers, there were abnormal imbalance use of nutrient and that impacted Indian soil health, as farmers prefer to use nitrogenous fertilizers & SSP in place of DAP for their crops.