India has bare minimum level of DAP inventory i.e. around 0.14 million tons as on 1st April, 2021. During Kharif 2020, India DAP sales were around 6.42 million tons and production was just 1.91 million tons. Import of around 4.19 million tons, filled the gap /shortfall on timely basis. Will India meet local demand on timely basis at affordable price?
Di-Ammonium Phosphate (DAP) Prices have been significantly increased globally since February 2020, due to various factors
1. Strong demand from the US and Brazil.
2. China have dropped interest in FY' 2020 and just working to satisfy the local need.
3. China adopting policy of "Zero Fertilizer Growth procedure" which leads to limited production in the country.
4. The cost of phosphatic fertilizers has also extended owing the sharp climb in the smelling salts costs.
5. Sulphur costs have also increased rose due to the increase in the crude petrol costs.
Due to all above factors, the overall DAP costs are reaching at a very high levels.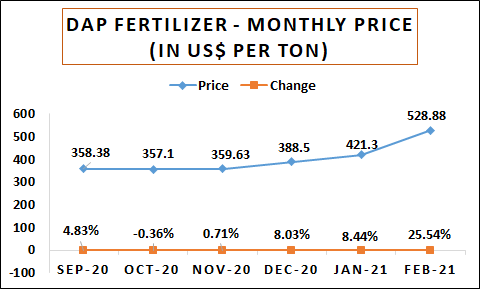 How India will face challenges on account of Raw Material Price Inflation and Currency Depreciation?
Raw material and global fertiliser costs, hikes in March 2021 from Rs. 24 K / MT in Dec., 2020 to Rs. 30 K / MT, due to hike in raw material. Phosphoric acid costs touched $795/MT in 4th quarter of FY' 2021 from a level of $680/MT in 3rd quarter in FY' 2021, which is further rose to $998/MT in 1st quarter of FY. 2022. The Production of phosphatic fertilizers in India is totally depends on import of raw material. The price of ammonia has also witnessed significant upward movement. The prices of ammonia and sulphur have also gone up from around $280 and $85 per tonne to $500 and $220 per tonne.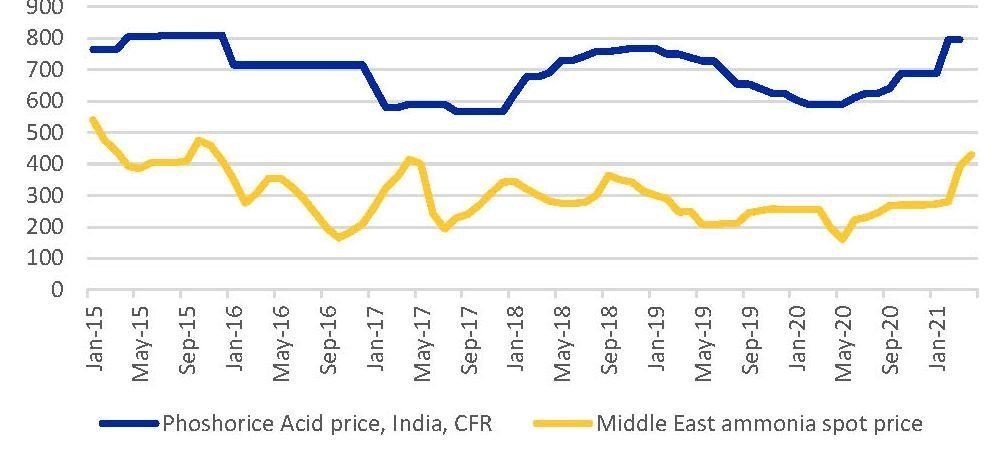 The landed costs of imported DAP is now at about $540 per tonne (Rs 40,281), up from around $400 in October. Money deterioration fundamentally affects the costs of DAP production by approx. Rs. 455-475/MT increase with every Re.1 deterioration against US dollar.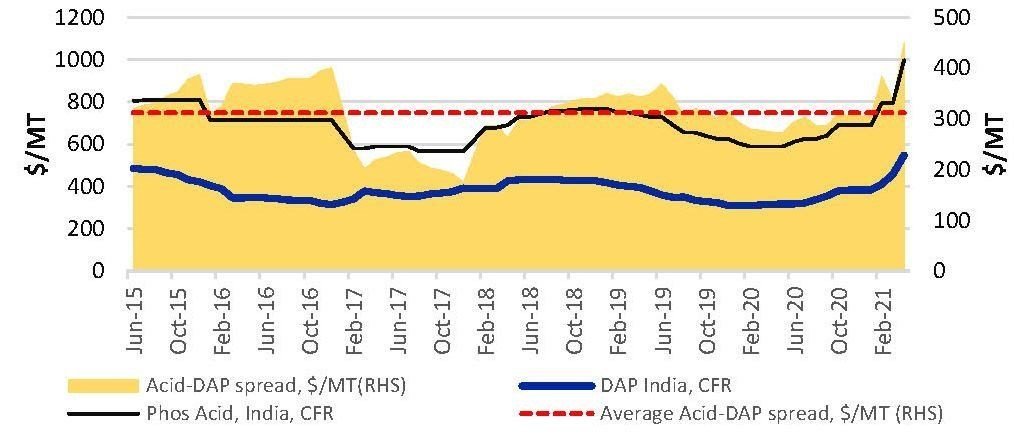 With all above reason, Retail Price of DAP in India is on upward trend. Hike has touched a level of Rs.1900/- per 50 kg bag with increase of 58.3% over Rabi prices.
The phosphate fertilizers subsidy rates changed every year under the Nutrient Based Subsidy (NBS) Scheme by the Government of India, which is according to the international prices of fertilisers and input prices. This time, so far Government of India has not changed in the NBS rates for FY' 2021-2022, however prices of DAP fertilizer and raw material in the international market has a steep rise.
In the several meetings of Ministry of Chemicals and Fertilisers with Industry peoples, GoI has requested to fertiliser companies not to increase the retail prices of DAP for the existing stock of fertiliser in the ongoing kharif season. Government want to ensure availability of fertilizers to the farmers at affordable price. Retail market price of DAP in March, 2021, rises to a level of around Rs. 30 K to 38 K. Considering old stocks with companies and trade, production and old contracts of import, adequate amount of stock is available at present for meeting the requirements of the upcoming Kharif season.
Now Government has to take a call either to hold NBS rates which will result in hike of Retail price or increase the NBS rate to keep Retail price at reasonable level. Ministers are continuously watching the situation and meeting with Secretary Fertilisers and industry peoples to make surplus availability of DAP & Complex Fertilisers at reasonable price to the farmers.
In this case, NBS rates may be moved on upward direction in order to keep the retail prices within affordable range for farmers. However, if NBS rates remain unchanged, the retail prices may move upward.