The India fertilizers market has registered a growth with a 10 years CAGR of 2.2%. The impact of Covid-19 pandemic has no impact on the Indian fertilizer market in the financial year 2020-21, only due to various initiatives taken by Department of Fertilisers, Ministry of Chemicals & Fertilisers, Govt. of India, Fertilizer Industry and trade as well.
Government of India has exempted agri sector from lockdown restrictions, however fertiliser sector faced lot of challenges on account of shortage of labour and raw materials due to lockdown. The government of India have taken all initiatives to ensure availability of fertilizers at the field to the farmers across the India throughout the lockdown period. Indian railway also extended their support by relaxing in timing of loading and unloading of fertilisers rake at field, port & plant. Consolidated efforts of all resulted in the increased sales of fertilizers.
India is the second-largest consumer of fertilizers in the world with an annual consumption of 61.2 million tons in FY' 2020-21, which is 7.1 percent more than consumption of 57.2 million tons in FY'2019-20.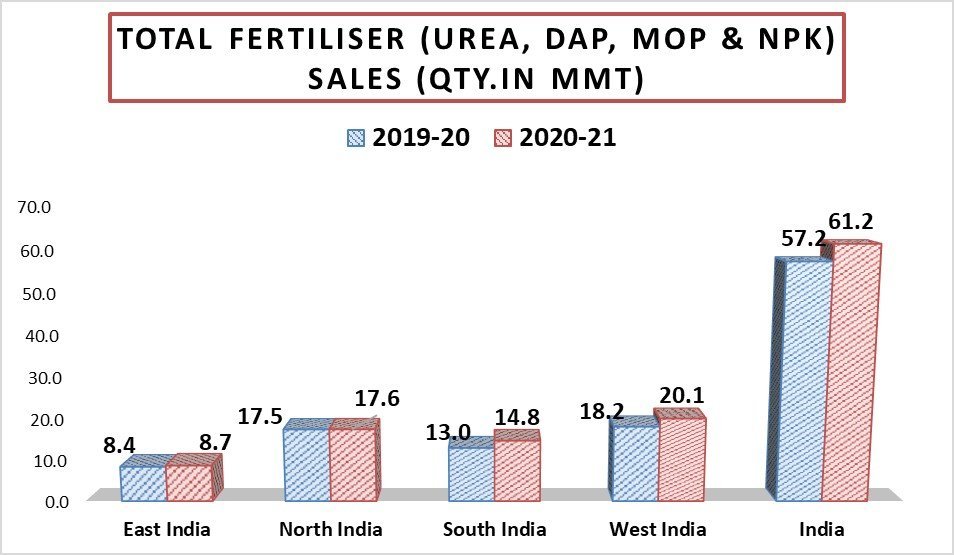 Among the various type of fertilizers used in India, Urea is one of the highest consumed fertilizers in the country as a source of Nitrogen. The consumption of Urea as of March 2021 has crossed 35 million tons. DAP second majorly consumed fertilizer in the country, crossed 10.5 million tons. MOP and NPK achieved sales of 3.4 million tons and 12.2 million tons respectively with extra ordinary growth in South & West Zone of India. Figures force us to re-think on the future market of fertilizer !!!!!!
Is South & West India is booming market for fertilizer manufacturer & importers?