Government gives fertiliser subsidy in India, to achieve its objective, to make availability of fertilizers across all the blocks & districts throughout the year at affordable price to the farmers and to increase fertiliser consumption in agriculture to increase food production.

India plays a key role in the global fertiliser market as per available data. Sale price of DAP in India, is decided by the global market for DAP and its raw materials, as subsidy is fixed, and India dependency is on imports for DAP and its raw material. US DAP global spot price (Gulf) have touched US $ 604.75 per ton which is 5.24% more than May 21 and 122% from June 2020. Morocco Rock Phosphate Price for June 21 is US $ 125 per ton which is 21.95% more than May 21 prices of US $ 102.5 per ton and 67% more than last year during same month (June 2020 – US $ 75 per ton).
DAP production and imports have dipped in first quarter of FY' 21-22 compared to FY' 20-21(April – June).
This may impact the Indian market across all the states & zones. In first quarter of FY 21-22, All India DAP sales dropped by around 29% compared to previous year in the same period and zone wise DAP sales also dipped in range from 17% to 34%. The situation arises by dipping in indigenous DAP production, imports and rise in global prices.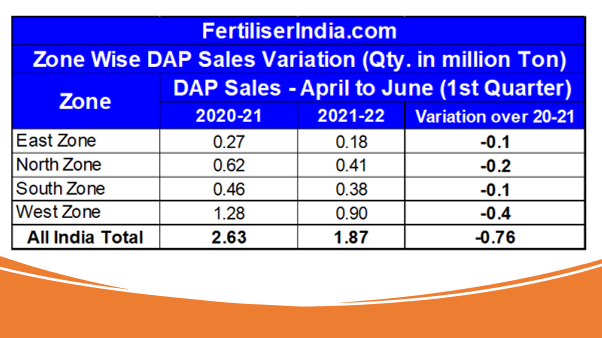 Not only DAP sales, but DAP stocks is also stood at minimum level i.e. 0.24 million ton as on 30th June 21, which is lower by 38% compared to last year. DAP inventories are just at negligible level.
Balance requirement in second quarter of FY' 2021-22 is estimated at 4.31 million tons till 30th September according to consumption data of Kharif, without any increase in normal situation.
Maximum requirement is in north and west zones in second quarter. If current DAP situation is continued than farmers may use excessive urea dose that may lead to imbalance use of fertilizers and upcoming Kharif crops prospects may be impacted and may results in reduction of crop yield.
Below table shows that DAP sales are dropped in first quarter of FY' 2021-22 compared to last year in the same period in all the states of India except Tamil Nadu, J&K and Manipur.